I DESIGN AND DEVELOP WEBSITES USING PHP, MYSQL AND BOOTSTRAP
I help brands gain an online edge with elegant, modern and customized websites that meet high design and functional standards. UI/UX, graphics, coding and SEO – I cover all bases. The websites are user-friendly and dynamic, which means making updates yourself is a piece of cake. Here are some recent websites I developed:
Trekking in Nepal
Whether you're looking for a simple trek, a luxury holiday or a haphazard backpacking trip, I have extensive knowledge, experience and expertise to guide you to the mountain trails – or to low valleys for that matter!
Explore the finest ridgelines of Pokhara in a quick weekend getaway. Fastpack along spectacular trails in the mountains, or take it slow and easy on relaxing hikes around town. Does a photography trek tickle your fancy? Maybe try a camping trek through remote and rugged terrains, although I suck at cooking.
The trips I design are a result of rigorous scouting and are coupled with a proclivity for culture, views and good times out in the green. Every detail is carefully worked out. Safety is never compromised, neither is fun.
I also organize and lead biweekly hiking trips in Kathmandu: www.vonkathmandu.com/hikes
ORGANIZED 17 TRAIL RUNNING RACES AND 14 MOUNTAIN BIKE RACES. INITIATED RELIEF PROJECTS IN EARTHQUAKE-AFFECTED AREAS IN CENTRAL NEPAL
Over the past years, I have been involved in several demanding events and development projects that have honed my organizational skills. I am able to combine skills in writing, programming, analytics, marketing, photography and branding, coupled with a dedicated team, to bring an idea to life. For each project, I conceptualize, plan and execute the ideas, and analyze the outcome to make restless progress. Here are three projects I have been extensively involved in:
EUTAI MALA NEPALI

Founding Director. Conceived in 2015 within days following the April 2015 earthquake that struck Nepal, Eutai Mala Nepali was a development initiative that collected and distributed relief materials worth USD 200,000, which included material goods like food, high grade tents, sanitation materials, CGI sheets and solar-powered lighting for several hundred rural households.
I devised relief and reconstruction strategy, raised funds, designed the website, wrote content and executed the plans, along with writing reports and documentation. As a small, dynamic team, we were swift in identifying needs, preparing proposals, raising funds, executing tasks and documenting the process in real-time.
Years active: 2015 to 2017
GRAND HIMALAYAN ENDURO (GHE)
Co-Founder / Media Director. GHE is a yearly mountain biking race in the eastern outskirts of Kathmandu. The event started in 2016, and in 2019 was selected as an Enduro World Series Qualifiers. The week-long event sees more than 100 international racers – from beginners to elite, including national champions of Belgium, Singapore and South Korea – compete for the coveted title.
As a co-founder of Gnarly, the company behind GHE, I headed the IT, branding, photography, content, online marketing and media relations. More than 75 team members are mobilized for the grueling event. It has become one of the most awaited mountain biking races in Nepal.
Years of my involvement: 2016 to 2019
SNAIL TRAIL SERIES
Founding Director. This monthly trail running event in Kathmandu Valley took off on October 2018. It has steadily grown over time to receive over 350 participants in each edition; half the runners are expats and half locals. By actively maximizing efficiency and making improvements based on feedback from the participants, we have grown considerably since founding and regularly receive positive, encouraging reviews.
Apart from being a founding member, I handle event operations, admin, media, branding, IT, policy, marketing, logistics and overall strategy. More than 20 team members are mobilized for KTM Series, which has become a popular weekend out for friends and families to enjoy the nature.
Years active: 2018 to present
FORMER EDITOR, COLUMNIST AND CONTRIBUTOR FOR VARIOUS MAGAZINES AND NEWSPAPERS
Since 2013 I have contributed over 700 articles to more than 40 newspaper and magazine outlets in Nepal and abroad. This includes an interview piece for the National Geographic, and several full-page photo stories in the Kathmandu Post, a national daily. I was a columnist with the Himalayan Times in 2016 and 2017, in addition to serving as a copyeditor for ECS Nepal, Living, Fr!day Magazine and 6 other magazines.
While I cover a variety of subjects for feature writing, I have an inclination for mountains, travel, food and spirits. Likewise, I have extensive experience in writing proposals, reports, concept notes, promotions and other formal materials.
I undertook a solo assignment from UN Habitat to document lives of beneficiaries in words and photographs. I was also responsible for graphics and layout of the 135-page report. Here are some samples: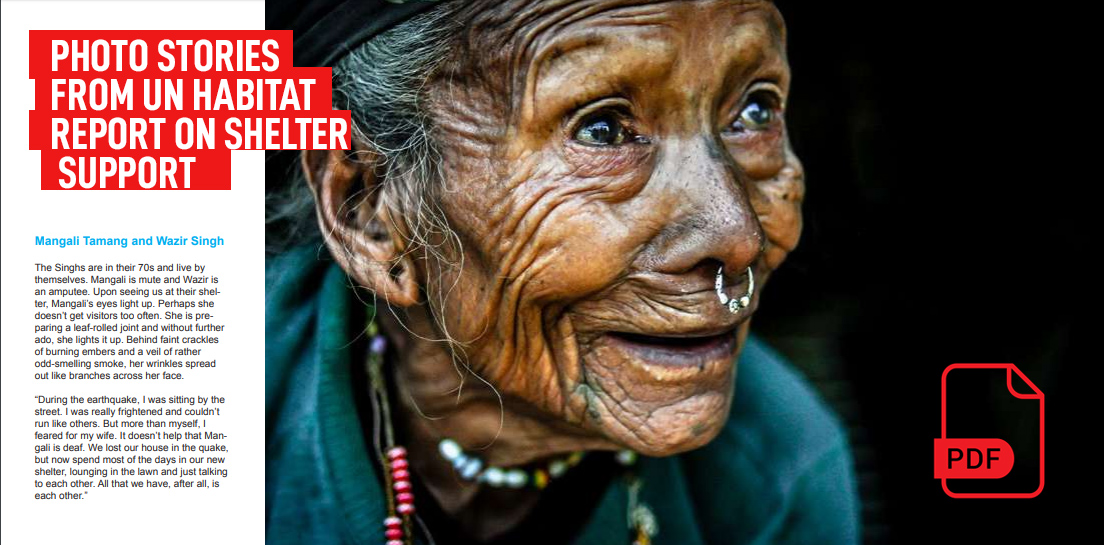 Where I've been published
I create digital graphics using Adobe Photoshop, InDesign and Illustrator
Whether for posters, logos, and brochures, or anything for social media stories and posts, I am fluent with vector and raster graphics. I am able to make adaptations of the designs to suit different sizes and purposes. Here are some of the branding materials from mountain biking and trail running races –